Okay… the hottest thing in my walnut kitchen is …… the Alessi 'Bird' Kettle
It's also one of the coolest things. You'll notice in the photo on my home page, it's front and centre on my stove.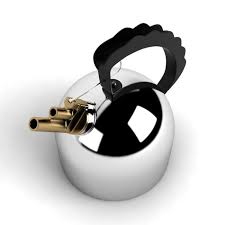 Here's the story – It was a toss up when it came to kettles – which kettle to get, Alessi's first kettle, the Richard Sapper 'Whistle' kettle that came out in 1983, or Alessi's Michael Graves 'Bird' kettle that was introduced 2 years later? Both were instant classics for Alessi, the nearly one-hundred year old Italian kitchen company that specialized in high-end utensils and gadgets.
I have to admit that I preferred the rounded design of the Sapper kettle, and actually secretly still do, but the deciding factor was two fold, the 'Bird' kettle actually has a top you can pop off so it can be cleaned (the other does not). And secondly, my brother Robert and sister-in-law Tomoko actually had the final say because they gave us a housewarming present and it happened to be the 'Bird' kettle. So, obviously, it was the 'Bird' that was meant to be in my walnut kitchen. And I've loved it ever since.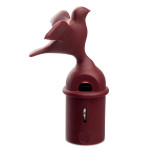 First cool thing – the red bird actually sings when the water boils, though I have to say it's not exactly the beautiful tweet of a red-crested sparrow – more like a high-pitch scream of a 3-year old.
SPOILER ALERT – the plastic bird did meet its maker – it melted over a hot gas stove, so be prepared to replace it (about a $15 part).