From Monk to millionaire, Andy Puddicombe, founder of the meditation app Headspace is doing for meditation what Jamie Oliver did for food. (New York Times)
Considered the "international poster boy for the modern mindfulness movement", Puddicombe is one of the people I've stumbled upon whose life journey is SO powerful. I am truly inspired by him.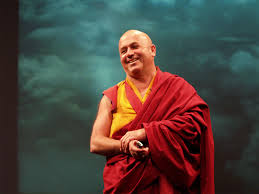 After dropping out of university, he travelled to the Himalayas to study meditation. 10 years later, he was ordained as a Tibetan Buddhist monk. Prepared to live out the rest of his days in relative seclusion, one day Andy had an epiphany: a yearning to return West and make "meditation and mindfulness accessible, relevant and beneficial to as many people as possible".
Mission accomplished.
Andy is the author of 2 books, has been featured in Vogue, New York Times, Entrepreneur, Men's Health and Esquire to name a few. He also makes regular appearances on TV and online having been featured on BBC, Dr. Oz and Netflix. I'm only scratching the surface of his story. There is so much more to it. Check out his Ted Talk which has 5.7 million views!
https://www.ted.com/talks/andy_puddicombe_all_it_takes_is_10_mindful_minutes?language=en
I've attended and downloaded courses, subscribed to Oprah and Deepak's free 21 day meditations, tried different techniques from humming to counting. No question, mindfulness meditation has been proven to be an effective treatment for stress, worry, lack of focus, relationship problems, addictions and more.

According to neuroscientists as you continue to meditate your brain physically changes even though you're not aware of it re-shaping itself. A recent review of nearly 50 scientific studies found that mindfulness was as effective as anti-depressants in helping depression, but with no side effects.
The biggest challenge to meditating is actually finding the time and being disciplined to do it on a regular basis. I've never been able to commit until now.
As part of my journey to chart a different route for myself, for over 2 months, I've been religious about meditating every morning. That's thanks to Headspace. It's a mobile app and digital platform with a library of themed meditation packs for improving your health performance and relationships. Because your phone is always with you, it's so easy to use, and you really only have to commit 10 minutes a day if that's all you can spare.
I DO notice a difference in the way I feel since I started. I would highly recommend trying it. Anyone can get 10 sessions free, but I want to pass on a 30 day voucher that I earned. Just go to the headspace.com homepage or at checkout and enter this code. REW30-SUM698
Enjoy and please let me know your meditation stories and whether you have anything to recommend.