GOOEY….FUDGY, and DENSE is the best way to describe these delicious brownies
When the brownies come out of the oven, the bubbly crust where the marshmallows have settled is like a lunar moonscape of heavenly chocolate decadence.


This is one of the only dessert recipes that I have consistently made for my family for years. My lovely former neighbour, Ellen Schwartz made them for us one day a long time ago. From that day on, I was hooked! Here's how easy they are to make: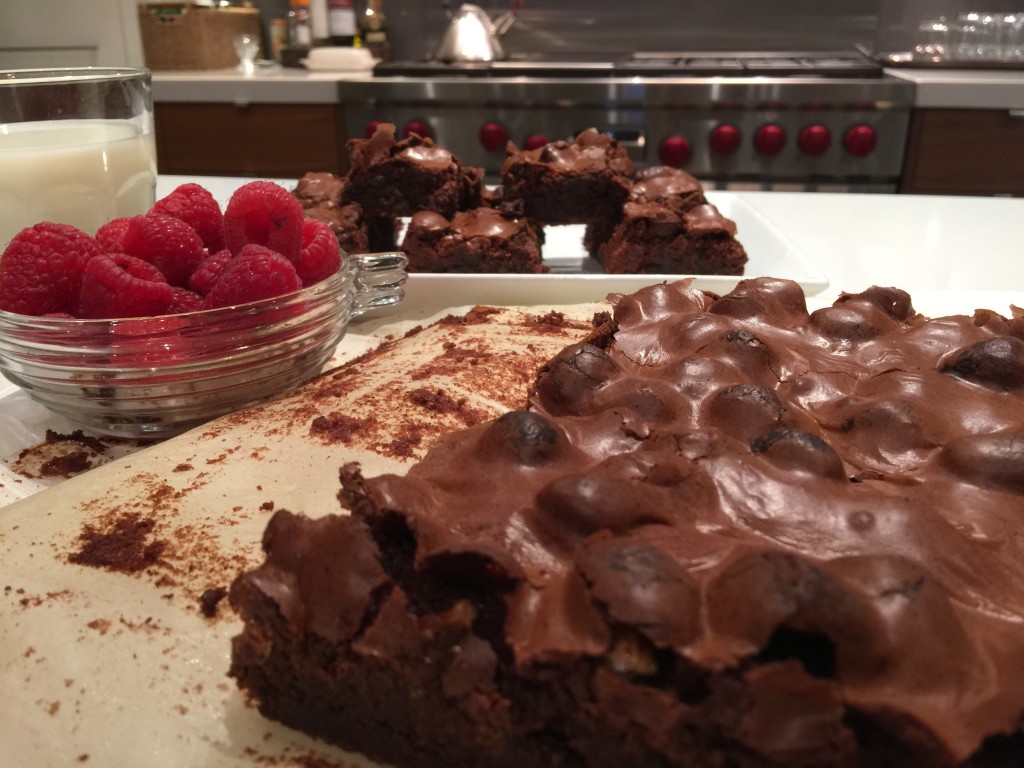 4 oz unsweetened chocolate 2 tsp vanilla
1 cup butter 1 cup flour
1 cup chocolate chips ½ tsp salt
4 eggs 2 cups mini marshmallows
2 cups sugar 1 tsp baking powder
Melt butter and chocolate over a double boiler or melt in microwave. Use a mixer to beat eggs, sugar and vanilla and then add melted chocolate and butter mixture. Once combined, add flour, salt and baking powder. Finally, stir in marshmallows. Pour batter into a 9 x 13 parchment lined pan. Bake at 350 degrees for 35 – 37 minutes. Watch it carefully, you don't want to overbake it.
Not only are they scrumptious, making them reminds me of Ellen. Food is love and Ellen is famous for expressing her affection by surprising people with her yummy baked goods. But, her kindness, compassion, and love have all been most abundantly expressed by the example she sets as a nurturer. Her ability to turn the tragedy of a fatal neurodegenerative diagnosis of Jakey, her first born child, into an opportunity to shine the light on courage, hope and the joy of living each day to the fullest is extraordinary. Jakey is everyone's hero. Miraculously, he recently celebrated his 18th birthday!
Ellen is a mother of 3, teacher, author, inspirational public speaker, and fundraiser. She and her husband Jeff (who is also AMAZING) founded the charity "Jacob's Ladder", which has raised 2.5 million dollars toward research to discover and develop therapy and diagnosis of neurodegenerative diseases among many other efforts. It's that time of year for giving. If you would like to make a donation to this amazing cause, here is the website: www.jacobsladder.ca
P.S. when I asked if she'd mind me sharing this recipe, she confessed that she got the recipe from a friend and in true loving generous fashion that embodies who Ellen is, she said: "they really aren't my brownies – they are yours xo"