As winter slowly descends upon us, there is so much to look forward to. The magic of a fresh snowfall and cozying up by the fire are just a couple of my favourite things about this season.
Of course, there's also lots to complain about when it comes to the prospect of frigid temperatures. Dry skin for starters. Is it just me? It's not even that cold yet and my hands and lips are already chapped. I'm really picky when it comes to lip balms. Often what you put on your lips makes them feel even more chapped! How is that possible?
For years the only lip balm I used could only be found in Germany! I would literally stock up with 10 sticks at a time! But then I discovered that the ingredients included hydrogenated palm oil. Yuck! No wonder that brand was no longer for sale in North America!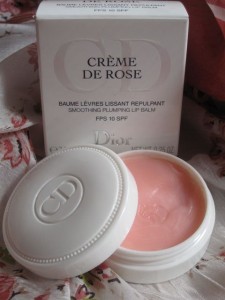 Now, my favourite lip balm is Christian Dior's Crème de Rose Smoothing Plumping Lip Balm. Although I really don't think there's a whole lot of plumping action going on….it's nevertheless wonderful! And it performs miracles overnight. I first heard about it from Elle Fowler who (among other beauty gurus on You Tube with millions of followers) described it as one of her favourite beauty products ever. Because it's in a pot, I don't carry it in my purse, instead, I keep it on my night table and smear some on every night in winter. With shea butter and essential oils, it's very very rich and as a result, incredibly moisturizing. It's got a rose scent which is a draw for some people. I myself don't care one way or another much about the scent, but I love what it does.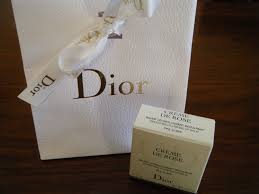 In fact, I love it so much that I've shared it many times with friends and family. It's a bit expensive (just under 30 dollars), but it makes a lovely stocking stuffer, Mother's Day splurge or birthday treat. Let me know what you think.