IT WAS LOVE AT FIRST BITE…
I love eating out, especially when it's a home cooked meal made by friends who are into food as much as me. So, it's a treat to get an invitation to Shelley Adler and Paul Cohen's house. Shelley is a wizard in the kitchen and has a knack for finding really interesting recipes like this red lentil soup. The combination of cumin, cilantro and a final squeeze of lemon are mouth-watering!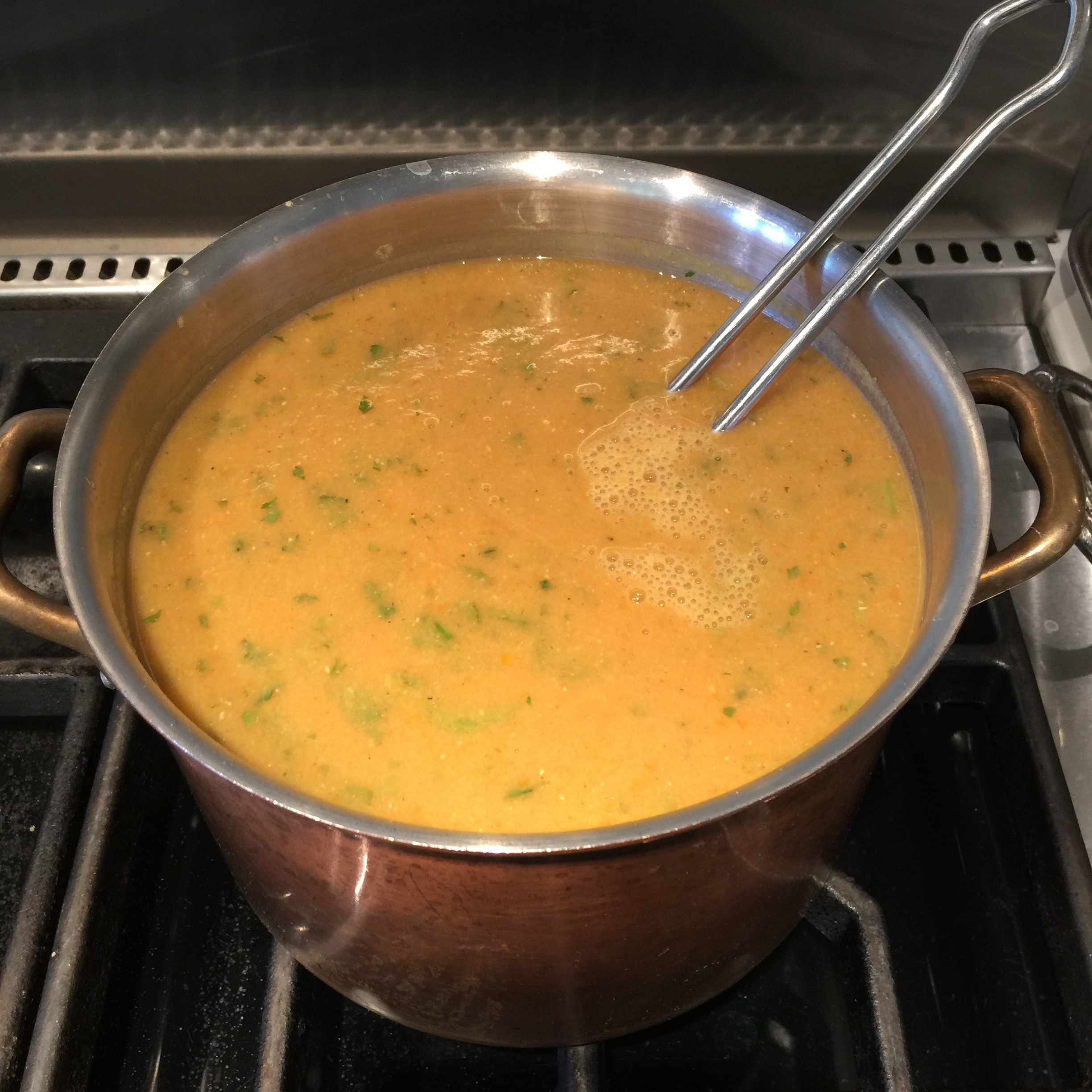 Red lentils are legumes that don't need presoaking. Why? They are hulled and split. Because they have no skin, they are easier to digest with the added bonus of cooking up fast! I personally prefer them over green and brown lentils. BONUS: Lentils are also a great source of dietary fiber, protein, and B vitamins.
This soup is one of my all-time favourites because it isn't just delicious, it's also very nourishing. Below is the recipe AND the video so you can see that it's SUPER easy too. ENJOY!

RED LENTIL SOUP
2016-11-07 16:48:42
Ingredients
• 3 tablespoons olive oil
• 1 large onion, chopped
• 2 finely chopped garlic cloves
• 1 tablespoon tomato paste
• 1 teaspoon cumin (ground)
• 1 teaspoon salt
• 1 teaspoon pepper
• 1/8 teaspoon cayenne pepper
• 2 cups water
• 4 cups vegetable stock
• 1 large chopped carrot
• 1 cup red lentils
• 3 tablespoons chopped fresh cilantro
• Juice of 1 lemon
Instructions
1. In a large pot, heat 3 tablespoons of oil. Add onion and garlic, and sauté until golden, about 4 minutes.
2. Stir in tomato paste, cumin, salt, black pepper and cayenne and sauté for 2 minutes.
3. Add 4 cups vegetable stock and 2 cups water (if I don't have stock, I just add 6 cups of water), carrot and lentils. Bring to a boil, then, lower the temperature and simmer covered for one hour or until the carrot is soft.
4. Using an immersion blender purée the soup. Season to taste. (I usually add more salt)
5. Stir in cilantro and lemon juice. Enjoy!
Walnut Kitchen http://walnutkitchen.ca/
Big thanks to
Shelley Adler
for sharing this recipe with me. Cooking isn't her only expression of love and creativity. She is also
one of my favourite artists
. Check out her
work here
.