Everything is better when it's homemade
That's certainly the case with this Almond Milk Recipe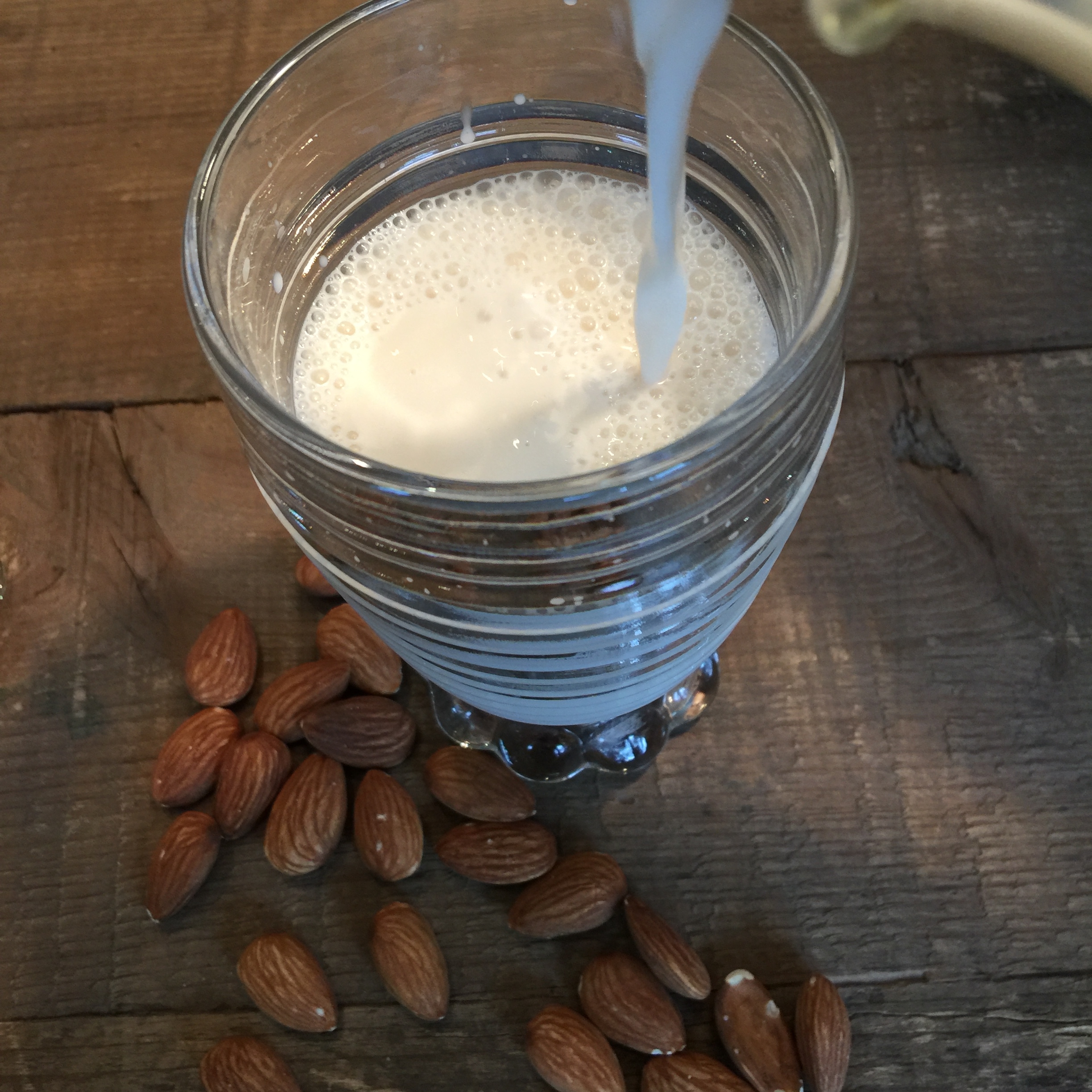 I never liked milk. The only way I could stand it while I was pregnant and trying to get some calcium was to have it in my morning decaf latte! Partly, I didn't like it because I later discovered I was lactose intolerant. But, I also never loved the taste or feel of it in my mouth. For a while I replaced it with soy milk. However, now that I'm studying holistic nutrition, I'm discovering that soy is quite controversial. I want to be better informed before I consume any more of it. So, for the last year, nut milks have been my first choice for cereal, smoothies and hot drinks. But, once I read the ingredients on the milk carton, I was turned off. That's when I started to experiment with homemade. This almond milk recipe is SO much better than store bought. You should try it out. Plus, I've got a great gluten-free brownie recipe which uses the leftover almond pulp. Stay tuned!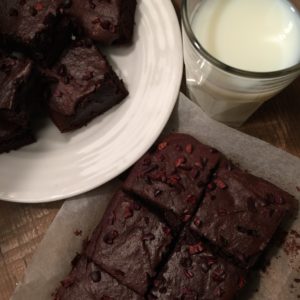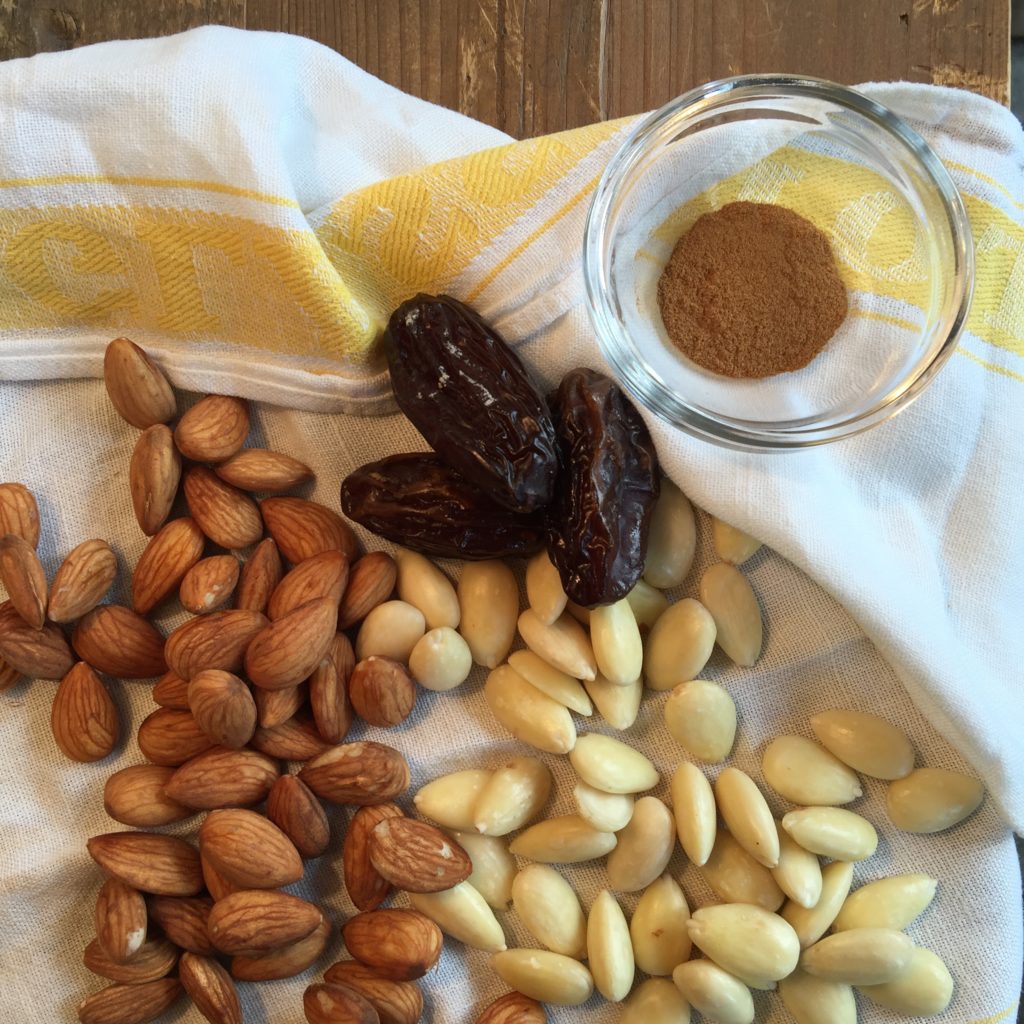 Soaking the almonds plumps them up, making them easier to blend if your blender isn't heavy duty. As well, soaking makes it possible to slip the brown skin off which I tried (as seen in the photo) and later discovered was unnecessary. However, the most important reason for soaking them, is to make them easier to digest. Almonds can be difficult for most people to digest because of an enzyme-inhibiting substance in the brown coating. Soaking removes this inhibitor so that the enzymes secreted during digestion can do their job.
I really got into making nut milks after I bought a high test blender. A Vitamix or Blendtec yield the best results. I know it's a pricey investment! And it's so tall that it isn't easy to store. I hate having clutter on my counters! My solution: I bought the smaller container and it tucks nicely into bi-fold cupboards so it can sit on my counter AND be out of site. The larger container I store elsewhere and pull out when I am making big batches. A nut milk bag is another thing you should get if you are serious about making this almond milk recipe regularly. It only costs about 10 dollars and it is much easier to extract the milk from the pulp compared to using a cheesecloth which is what I used to begin with. If you are just starting and you don't want to buy anything except nuts, try making cashew milk instead. Raw cashews are much softer especially after they are soaked and it's not necessary to separate the milk from the pulp.
Homemade Almond Milk Recipe
2016-04-17 18:31:36
Ingredients
1 cup raw almonds, soaked
3 1/2 cups water
3 pitted Medjool dates
Pinch of cinnamon
Instructions
Soak the almonds in water overnight. Rinse and drain well
Place drained almonds into a blender along with the water, pitted dates, and cinnamon
Blend on the highest speed until creamy
Place a nut milk bag into a large jug. Pour the almond milk mixture into the bag. Squeeze the bag to release the milk. You need to use your muscles!
Voila! Enjoy the milk and save the pulp so you can make other delicious recipes. Stay tuned for my gluten free brownie recipe!
Adapted from Oh She Glows
Adapted from Oh She Glows
Walnut Kitchen http://walnutkitchen.ca/
A further nutritional note: Although almonds are a source of protein, almond milk has a fraction of the protein that cow's milk has. But, almonds have SO many other benefits: They are a great source of Vitamin E, Vitamin B2, Magnesium, Phosphorus and Zinc. Almonds do contain fat. But it's the kind of fat you want. It's a monounsaturated fat which is a good heart healthy fat as long as you don't go overboard!