Feeling sluggish?
Protein Balls are a perfect snack to satisfy that sugar boost needed in the middle of the afternoon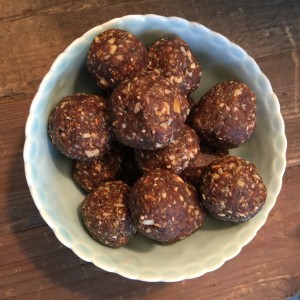 Protein Balls are great to pop pretty well anytime because they pack so much goodness in them like nuts, dates, chia seeds, flaxseed, hemp, coconut oil and raw cacao. That covers so many of the most amazing super foods, which means that I also eat Protein Balls for breakfast, I pack them to give me energy during a long bike ride and sometimes after dinner for something sweet.
I first learned about this recipe when preparing for a detox cleanse last spring. The key to eating healthy, I was told, is to have lots of wholesome food at your fingertips so you avoid grabbing something junky to stop the hunger when those pangs hit. Protein Balls were one of the snacks I wanted to have on hand to help stick with the program. That was a great strategy and I STILL make batches almost every week.
The best Protein Balls recipe I found comes from the 'Deliciously Ella' blog which is massively successful with 2.5 million hits a month. Ella Woodward is a huge success story. On social media she has followers up the yin-yang as well as a cookbook and an app. She's being hailed as the new Nigella (Lawson)!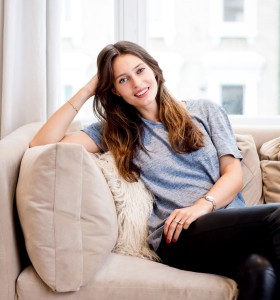 The first thing that struck me was how GORGEOUS she is. I said to myself, "I want to eat whatever she's eating!" These Protein Balls are so easy to make. The best thing about them is that they taste amazing. In other words, they don't taste like one of those 'healthy' snacks that you eat just because they're good for you. These Protein Balls are truly a wonderful sweet and healthy treat. I highly recommend you try them out. As usual, when I make a batch I double the recipe.
DELICIOUSLY ELLA ENERGY BITES
Makes 15 – 20 balls, depending on size
Ingredients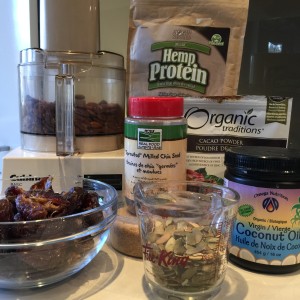 1 cup of Medjool dates (pitted)
¾ cup almonds
¾ cup walnuts or any other nut (I like pecans best)
2 tablespoons of chia seeds
2 tablespoons of ground flax seed
1 tablespoon of coconut oil
1 tablespoon of hemp protein powder
1 tablespoon of raw cacao powder
Place the almonds, walnuts (or pecans), ground flax seed and chia seeds in your food processor. Blend for 1 minute, until a flour forms and the nuts have crumbled.
Then, add the remaining ingredients. Blend for another minute until a sticky dough forms. If it isn't sticky, just add a few more dates because Medjool dates vary in their dryness.
Use your hands to roll the mixture into little balls, place in the freezer for about 15 minutes until they are set and then store in the fridge. They keep for about 3 weeks.
Enjoy!