Why is this THE BEST time of year to make Leek and Potato Soup? Because Leek and Potato soup is a delicious comforting winter warm-up classic.
Vegetable pickings at the farmers' market are getting slimmer and slimmer. If cooking with fresh and local ingredients is important to you, then Leek and Potato soup is a no brainer because leeks, potatoes, and carrots are in abundance at this time of year.
For as long as I can remember, this recipe was a crowd pleaser at my mom's house. Not only was it yummy for the adults, but it was also a kid-friendly soup because you couldn't see the vegetables. This easy Leek and Potato soup is pureed in the same pot you cook it in. Bonus! Easy clean up.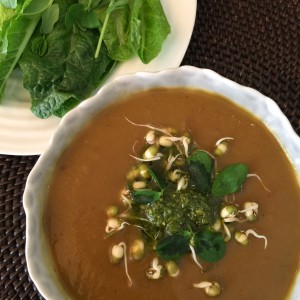 The one-pot wonder has a creamy velvety consistency with the ADDED bonus of NO cream. In fact, I've adapted my mom's recipe so that it's completely plant-based as well.
I used to love garnishing this soup with a spoonful of crumbled Stilton Cheese which added a wonderful salty tangy kick. But, since I'm trying to eat less dairy, I've found a great alternative. A dollop of pesto (I love the 'Sunflower Kitchen' brand which has no cheese) and a sprinkling of fresh organic mung beans (I use 'Kind Organics' brand). The combination of the sweet crunchy beans with the tangy basil is AMAZING! Give it a try – you won't be disappointed.
As usual, I doubled the recipe. Also, I experimented with a new blue potato variety. According to the market vendor who sold the potatoes to me, the flavonoids and carotenoids found in them help promote good health! What the heck, couldn't hurt. The flavour of the soup was just as delicious as ever.
Leek and Potato Soup
Ingredients
3 medium to large sliced leeks (wash carefully and use white part only)
2 medium sized carrots sliced
3 medium sized potatoes cut in chunks
6 cups of vegetable broth
3 tablespoons of olive oil
1 teaspoon of turmeric
salt and pepper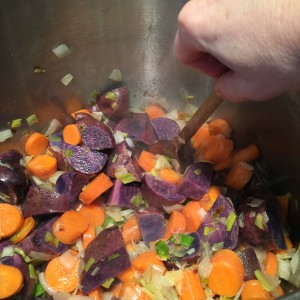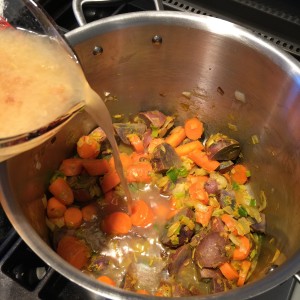 In a large soup pot add olive oil and sweat the leeks until soft, then add carrots and potatoes, sprinkle with turmeric and saute for 5 minutes.
Add vegetable stock and bring to a boil, then simmer for a half hour or until the potatoes and carrots are soft.
Puree with an immersion blender. Add salt and pepper to taste and garnish with basil pesto and mung beans just before serving. Delicious!