EATING MORE OF A PLANT-BASED DIET
THAT'S ONE OF MY TOP NEW YEAR'S RESOLUTIONS.
I'm not yet prepared to give up meat and dairy to become vegetarian or vegan. In fact, I've been stockpiling some of my favourite chicken and beef recipes to share with you in the months to come. But, based on all the information I've taken in lately on the dangers of eating animal products and the merits of eating exclusively plants and whole foods, I can see transitioning to a vegan diet one day soon. My aunt Milli and mother-in-law Nassa would be proud! As a foodie, I am determined to find and share recipes that won't compromise on taste and the joy of eating delicious food.
Mushroom Risotto is one of my all-time favourites.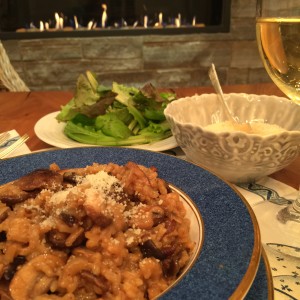 The creamy 'al dente' rice combined with the earthiness of wild mushrooms makes it THE ultimate winter comfort food. I'm SO excited to share a recipe I've been making for years that eliminates the chore of standing over the pot stirring constantly.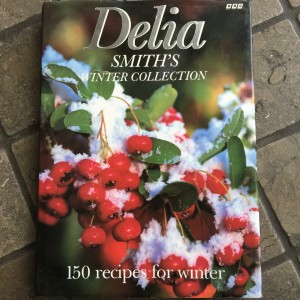 Delia Smith's "Oven Baked Wild Mushroom Risotto" is heavenly and so easy to make. I first learned about Delia Smith while living in London in my 20's. She is one of Britain's most popular cooks, TV presenters, columnists, and cookbook authors. The most popular of the 21 million books she has sold and the winner of the 1996 British Book of the Year award is "Delia Smith's Winter Collection". That's where this recipe comes from.
Two things to mention: Instead of butter, I used coconut oil, and although this recipe uses a small amount of Parmigiano Reggiano, you can easily leave it out or replace it with a vegan Parmesan 'style' cheese. Give this a try – you won't regret it!
Delia Smith's Oven-Baked Wild Mushroom Risotto
Serves 6 as a starter (I like to double the recipe and eat it as a main course)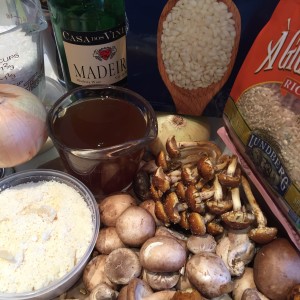 Ingredients
1 x ½ oz (10g) dried porcini mushrooms
8 oz (225g) fresh dark-gilled mushrooms
2 ½ oz (60g) butter
1 medium onion, finely chopped
6 oz (175g) Italian Arborio rice
5 fl oz (150ml) dry Madeira
2 Tbsp Parmigiano Reggiano, plus 2 oz (50g) extra, shaved into flakes with a potato peeler
salt and freshly milled black pepper
Pre-heat the oven to 300 F or 150°C
Method
Soak dried porcini mushrooms by putting them in a bowl and pouring 1 pint (570 ml) of boiling water over them. Leave them to soak and soften for half an hour.
Meanwhile, chop the fresh mushrooms into ½ inch (1 cm) chunks – not too small, as they shrink down quite a bit in the cooking.
Now melt the butter in a medium saucepan, add the onion and let it cook over a gentle heat for about 5 minutes. Then add the fresh mushrooms, stir well and leave on one side while you deal with the porcini.
When the porcini mushrooms have had their half-hour soak, place a sieve over a bowl, line the sieve with a sheet of paper towel and strain the mushrooms, reserving the liquid. Squeeze any excess liquid out of them, then chop them finely and transfer to the pan to join the other mushrooms and the onion. Keep the heat low and let the onions and mushrooms sweat gently and release their juices – which will take about 20 minutes.
Meanwhile, put the dish in the oven to warm.
Now add the rice and stir it around to get a good coating of butter. Then add the Madeira, followed by the strained mushroom soaking liquid.
Add a level teaspoon of salt and some freshly milled black pepper, stir and bring up to simmering point, then transfer from the pan to the warmed dish.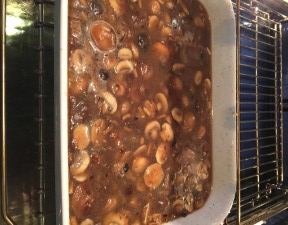 Stir once then place it on the centre shelf of the oven without covering.
Set a timer and give it 20 minutes exactly.
After that, gently stir in the grated Parmigiano Reggiano, turning the rice grains over.
Now put the timer on again and give it a further 15 minutes, then remove from the oven and put a clean tea towel over it while you invite everyone to be seated.
Like soufflés, risottos won't wait, so serve presto, pronto on warmed plates and sprinkle with the shavings of Parmigiano Reggiano.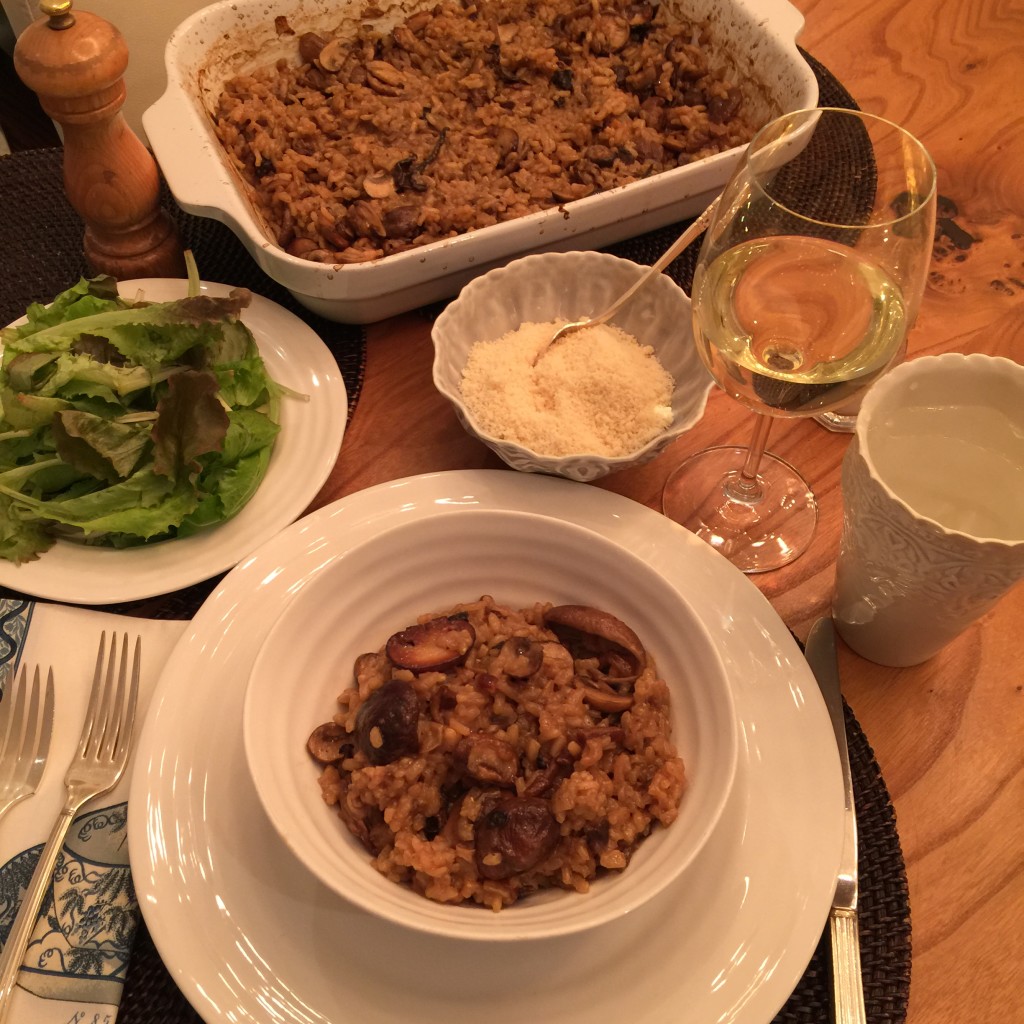 Just as a funny footnote. I tried to make a healthier version of this recipe by replacing the Arborio rice with short grain brown rice and replacing the Parmigiano Regianno with Nutritional Yeast Seasoning. Unfortunately, it was a failed experiment. Stay tuned for the healthier recipe in the future once I figure it out!
I wanted to acknowledge my awesome husband Andrew Burnstein who singlehandedly cleans up boatloads of pots, pans, and dishes and always does so with a smile. (not forgetting to ALSO mention his help with the computer AND this blog) Lucky Me!!! Thanks Andrew xxx